Our Mission
"Total Football" is our philosopy. It's been in our blood for the last 10 years - we won't let it go!
Our new Stadium
Work is soon to be completed at "Stadium Glenwood", a 68,000 all seater, just 2 miles from their current location at Loretto Park.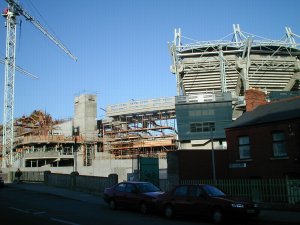 Player Records (End of Season 2000-01)
Appearance's (Over 50)
Shane O Brien 187
Kieran McSherry 187
Odhran O Brien 158
Colm McAdam 140
Alan Greenan 131
Peter Dunne 119
Eamon Dunne 119
John Sheehan 118
Gary Bell 111
Brian Morrissey 109
Dave Farrell 91
Niall Ward 83
Paul Foley 81
Darren O'Brien 76
Richie Murray 75
Paddy Purcell 71
Karl Daly 62
Niall Doogan 59
Conor White 54
Don Kiernan 52


Goals (Over 10)
Eamonn Dunne 107
Gary Bell 88
Paddy Purcell 66
Odhran O Brien 61
Alan Greenan 43
Brian Morrissey 38
Kieran McSherry 38
Don Kiernan 37
Paul Foley 37
Johnny Roche 28
Dave Farrell 23
Conor White 17
Niall Ward 12
Richie Murray 12
Paul McSherry 10
Karl Daly 10


History of Our Club
The history of this great club begins at the Education Centre, Templeogue, in May 1990. Two spotty Leaving Cert Students, Alan Greenan and John Sheehan, joined by 29 year old mature student, Shane O'Brien, decide that should they all make it to UCD that year, they will form a team to play in the UCD Superleague. Meanwhile, Darren O'Brien is born somewhere, and shortly later drops his first baby toy.

Season 1990-91
The team makes it's debut in the UCD Superleague, under the name, Munster FC - the team's registration as, Kuwait City, having been turned down, apparantly something to do with the Gulf War. Straightaway, famous names from the world of football are hired, including James Moran (nephew of Kevin) and Brian Carroll (cousin of Dennis Irwin), who join Greenan, Sheehan and the 33 year old Shane O'Brien. The first season is described by all as "difficult", with nine defeats and one draw, against Kevin Prendergast's Palermo team.

Season 1991-92
Renamed as "Melchester Rovers", the club's foresight in establishing a solid underage structure produces several new recruits which will become the backbone of the team in future years. Kieran McSherry, Peter Dunne, Odhran O'Brien, Brian Morrissey and Colm McAdam are all given squad numbers for the first time, and the club starts to develop it's reputation for cavalier, attacking football. Other, later signings include Gary Bell, who brings the club a whole new range of injuries, and the highest paid player in the club's history, Paddy Purcell. At the end of the season, Shane O'Brien signs a new contract, which will keep him at the club past his 37th birthday.
Trivia
Longest Unbeaten Run: 15 Matches (07/11/98 19/04/99)

Most Successive Victories: 13 Matches (02/04/95 25/08/96)

Most Goals in a Game: Paddy Purcell (6 v Milltown Rovers 31/10/92)

Most Goals in a Season: Eamonn Dunne (35 1998/99)

Biggest Win: 12-1 (vs Angel FC 1991/92)


Management

On the 27th of September 2001, Niall Ward was instated as Glenwood Manager. He freely admits that this is his stepping stone to Premiership Management.

Niall Ward (right) , celebrating as only he can, with new signing, Cormac Langford, after clinching the Welsh U21 International on a Bosman from Huddersfield.

"I'm here to do a job. It's hard because I've been friendly with a lot of the guys here for a number of years. I've had to distance myself slightly since I became manager. I think they respect that. If they don't they can rot in eternal hell!"

Club Roll of Honour

1992-93 Champions, Division 1 Saturday, UCD Superleague

1994-95 Champions, Premier Division, Saturday, UCD Superleague,
Superleague Cup Winners

1997-98 Promoted as Runners Up, AUL Division 3 Saturday

1998-99 Promoted as Champions, AUL Division 2A Saturday


Player of the Year

1990-91 Alan Greenan
1991-92 Shane O Brien
1992-93 Brian Morrissey
1993-94 Kieran McSherry
1994-95 Gary Bell
1996-97 Eamonn Dunne
1997-98 Niall Ward
1998-99 Eamonn Dunne
1999-00 Stan Collymore
2000-01 Darren O Brien

2001-02 Brian Gilroy

2002-03 Odhran O'Brien